Cricket
Women's Ashes: England clinch ODI series victory with 69-run (DLS) win over Australia in Taunton – Sky Sports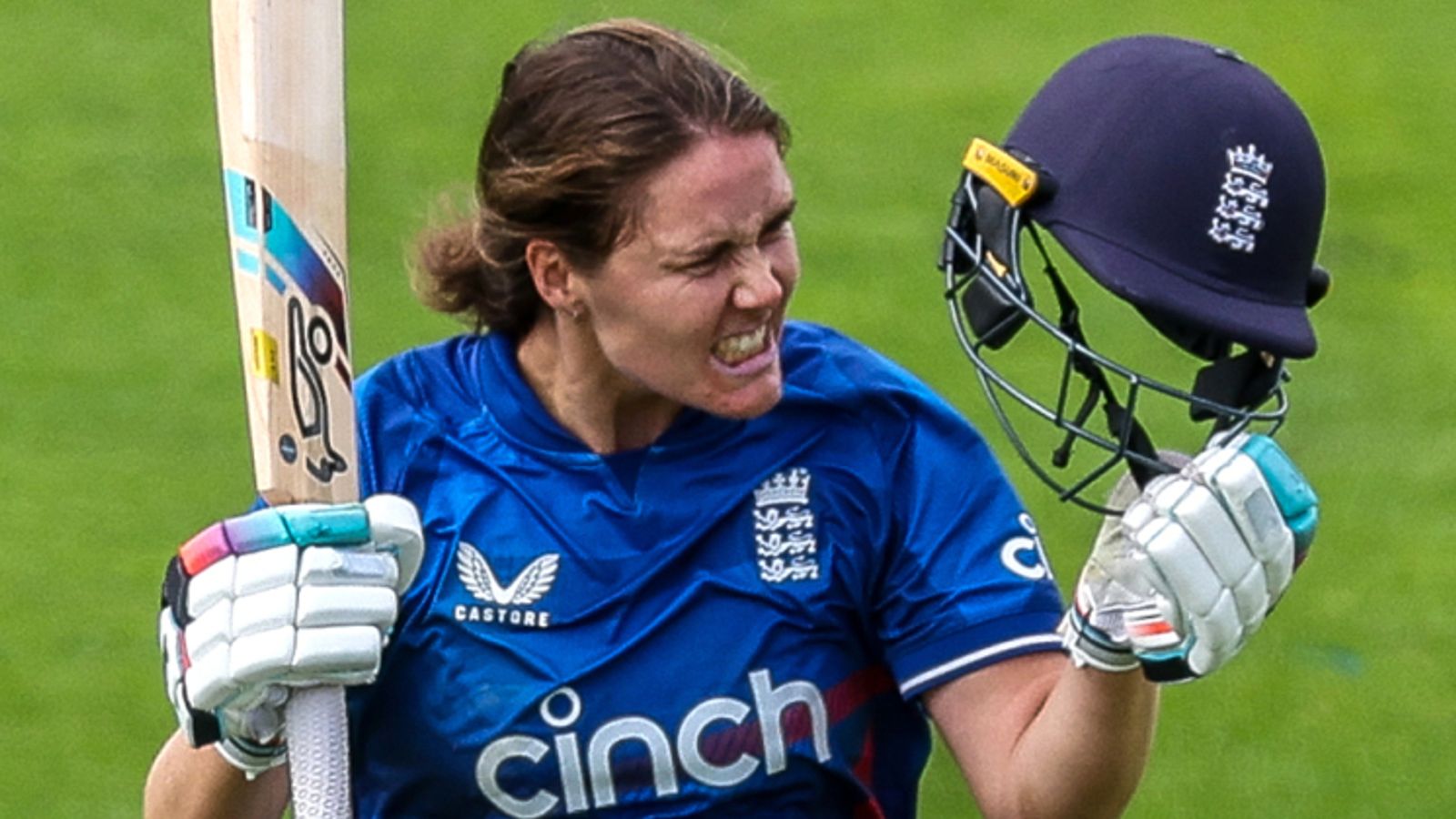 Australia suffer first ODI series defeat since 2013; Nat Sciver-Brunt (129) hits second consecutive ODI tonne against Australia and fourth in five games; Watch the first day of the men's Ashes Fourth Test at Old Trafford, live on Sky Sports Cricket, Wednesday from 10am
21:38 UK Tuesday 18 July 2023

Australia suffered their first defeat in a one-day international series since 2013 when England won by 69 runs (DLS) in the third ODI at Taunton, leveling the Women's Ashes series.
Australia still hold on to the Ashes, clinched with their second ODI victory on Sunday, by virtue of the fact that they are the reigning champions, but England's latest success in Somerset ties the multi-format series at eight points apiece.
Nat Sciver-Brunt (129) again starred with the bat for the hosts, this time in a winning cause, making a second successive 104th in his last five ODI meetings with Australia.
Nat Sciver-Brunt hit his fourth hundred in his last five innings against Australia as England looked to post a mammoth total.

Sciver-Brunt shared a record partnership of 147 ODI runs against Australia with captain Heather Knight (67) after England fell to 12-2 in their first four overs. That, plus a quick strike of 43 off 25 balls from Danni Wyatt saw, the home side are 285-9 in their 50 overs.
Australia's chase was interrupted by rain two balls in the 20th when 97-3 and, setting a revised target of 269 from 44 overs at the restart, the visitors were finally down to 199 in the 36th.
What to watch on Sky Sports this week
The 151 Open – July 20 to 23 – LIVE on Sky Sports Golf
Ash test of the fourth men – July 19-23 – LIVE on Sky Sports Cricket
Premier League Summer Series – from July 23 – LIVE on Sky Sports Premier League
Hungarian Grand Prix – July 21 to 23 – LIVE on Sky Sports F1
F1 Juniors: Hungarian GP – July 23 – LIVE on Sky Sports Mix
World Matchplay Darts – July 17-23 – LIVE on Sky Sports Action
Women's World Matchplay Darts – July 22-23 – LIVE on Sky Sports Action
IBF lightweight title eliminator – July 23 – LIVE on Sky Sports Action
Kate Cross took the pivotal wicket from Ellyse Perry as she departed for 53 before Beth Mooney left shortly after.

Ellyse Perry (53) scored a 31st ODI half-century shortly after play resumed, but play turned wildly in England's favor when Kate Cross (3-48) claimed her and Beth Mooney (16) in consecutive overs.
Ashleigh Gardner came in and tore up a 24-delivery electric 41 before running out on it, while Amy Jones produced a wonderfully quick shot to dismiss Georgia Wareham (14).
Australia's Ashleigh Gardner scored 41 off just 24 balls before being bowled out by England's Danni Wyatt.

Annabel Sutherland, who scored a hundred in what turned out to be a pivotal victory in the series-opening Test for Australia, was the tourists' last remaining hope but Charlie Dean (2-37) dropped her for 18 and tail then quickly calmed down like England. secured a second straight white ball series success following their 2-1 T20 triumph.
Tammy Beaumont and Sophia Dunkley went down in the first four overs, leaving England 12-2 in the third ODI

That wasn't on the cards when, after being brought up to bat by Alyssa Healy on a batting track, a misplaced Sophia Dunkley perished for two and Tammy Beaumont (4) was bowled by Megan Schutt. (1-34) in the opening four overs.
Sciver-Brunt and Knight rebuilt brilliantly, both raising half a century within one another, although Sciver-Brunt should have fallen shortly after for 54, but was knocked out of his own bowling by Tahlia McGrath.
Nat Sciver-Brunt and Heather Knight both mentioned their mid-fifties as England looked to post a challenging total for Australia to chase after.

Instead, the pair achieved a record partnership and Sciver-Brunt improved her career ODI average against Australia to a staggering 62.37 with her fourth hundred in five games against the seven-time world champions in the format.
Alana King (1-62) finally represented Knight, while Alice Capsey (5) was cheap, holeouting long. However, Sciver-Brunt found another willing partner in Wyatt, who hit four limits and two sixes in her stunning cameo appearance.
Gardner (3-39) finally bowled to Wyatt to open the 45th and Jess Jonassen (3-30) did it for Sciver-Brunt in the 48th as England's innings limped to the end.
But it was to prove a match-winning total, although the hosts were helped by rain and the adjusted goal Australia received on the restart.
Australia lost Phoebe Litchfield and Alyssa Healy on 13 balls as they got off to a poor start to chase 286

The tourists also lost both openers on the cheap, Lauren Bell (2-53) picking up Phoebe Litchfield (1) caught in the slide and Cross throwing Healy (7) through the gate, but although McGrath (26) was became Jones' first surprise victim of the day – off at Ecclestone (1-21) – Perry and Mooney seemed to be doing great when the rain came.
With Perry dying shortly after the restart, so too did Australia's hopes of an outright victory in the series.
England beat Australia by 69 runs in the third ODI at Taunton as the Women's Ashes were drawn 8-8

Knight: Two truly special trophies against Australia
England captain Heather Knight:
"Very happy, it's a tie, right? And we have two trophies against the world champions, which is really special.
"I think the way the group changed it after the Ageas Bowl, it was a pretty smooth bus ride, on the way here there was a lot of excitement and disappointment that the ashes had escaped, but I think the credit goes to the group, and to the staff, the way they changed it up and really showed up today.
England captain Heather Knight reflected on her team's win over Australia in their third ODI and believes they still have plenty of room for improvement.

"We wanted to keep playing like we had every series. We wanted to entertain and inspire this crowd that had come out to support us. We owed it to everyone to try to do that, and obviously, the stakes were still high." .
"So I'm very impressed with how the girls have done and very happy to finish with a draw."
Despite missing out on the chance to win back the Women's Ashes, England head coach Jon Lewis was proud of the effort his team have put in this summer.

Healy: Losing ODI series but retaining Ashes feels 'dirty'
Australia captain Alyssa Healy:
"It's a bit bittersweet and it feels a bit dirty in a way, but by saying that, we got the result we were looking for.
Despite losing the T20 and ODI series, Australia captain Alyssa Healy was pleased to retain the Women's Ashes after a drawn series with England.

"Actually, I've never really been a believer in the gap [between the sides], so you are probably asking the wrong person. I think the gap hasn't necessarily been there as long as everyone has said.
"The way England came out and played in this series suggests they are playing some really good, confident cricket and they are going to push anywhere in the world."
After retaining the women's ashes, Australia's celebrations were disrupted by smoke generated by fireworks.

Gardner: Not winning 'sucks' | "England outdid us"
Australian Ashes player Ash Gardner:
"It's a bit bittersweet, obviously, to be here holding the ashes.
"Thanks to England, of course, they outclassed us and have played quite a fearless type of cricket, which is something we should look at for our team as well.
"Obviously it's good to contribute individually but unfortunately as a team we couldn't pull this series together and it didn't go the way we wanted. England were the better team throughout the series and brought in the next Ashes."
"It sucks. Of course we came here to win the Ashes. Keeping it is great, but I guess that's probably a bit of a negative, we wanted to come here and win it. And of course we were in position to win the Ashes, and we probably didn't show enough fighting where we needed it."
Mel Jones, Lauren Winfield-Hill, Lydia Greenway, and Charles Dagnall review Women's Ashes and discuss whether it was the best series ever.

Women's Ashes Results (2 pts per cue ball won, 4 per Test)
Watch the first day of Old Trafford's fourth men's Ashes test, live on Sky Sports Cricket On Wednesday. Construction starts at 10:00, first dance at 11:00. You can stream the Ashes series for men NOW.