Tennis
Why Novak Djokovic fails to connect with the fans as much as Roger Federer and Rafael Nadal do?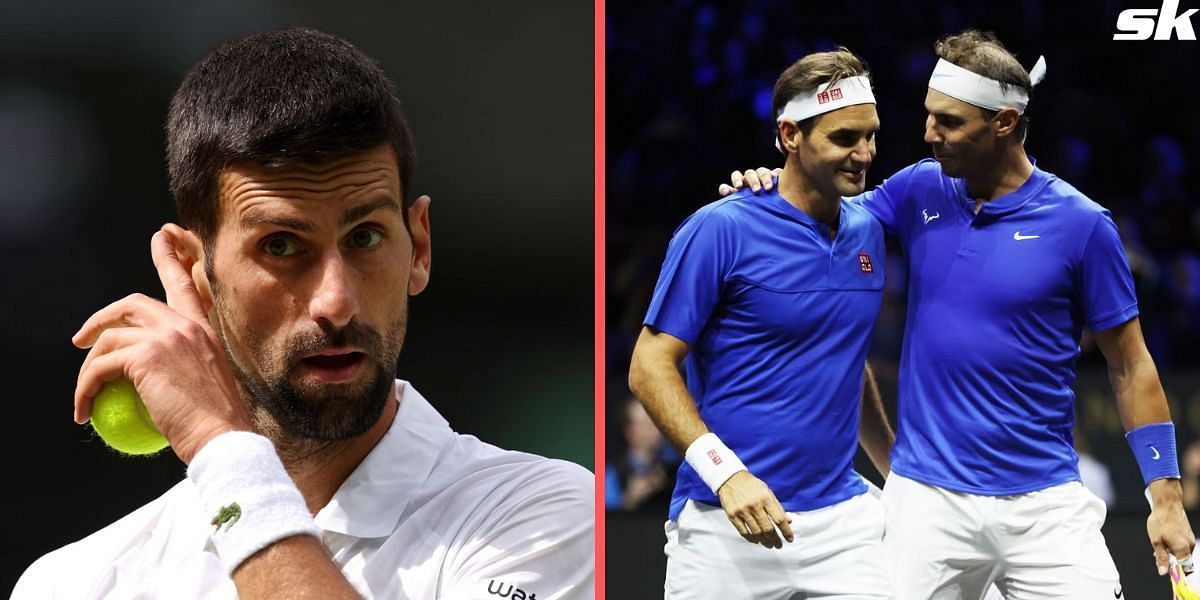 Even after losing the 2023 Wimbledon title to Carlos Alcaraz last week, Novak Djokovic stands as an icon whose success every tennis player on the planet wishes to replicate.
With 94 trophies in his cabinet, including 23 Grand Slam titles, and $171,254,424 in the bank as prize money, the Serb remains the most successful athlete to ever step foot on a tennis court in the Open Era. He has done it all and better than anyone, including his biggest rivals, Roger Federer and Rafael Nadal.
Djokovic has spent 389 weeks as world No. 1 in the ATP rankings. The second best is Federer, who spent 310 weeks, which is around a year and a half less than the world No. 2. Nadal is well behind in sixth place, with 209 weeks as the highest ranked. Djokovic also leads the heads-up against the Swiss and the Spanish. He has beaten Federer 27 times in 50 matches and Nadal 30 times in 59 matches.
It could be argued that Nadal, still active, is on a par with the Serb when it comes to winning titles, but the Spaniard's legacy remains confined to the clay courts. The last time he won Wimbledon was in 2010, while Djokovic has earned his spurs on all surfaces.
One would refrain from betting on Federer's backhand at the French Open and Nadal's topspin at the Championships. On the other hand, Djokovic enters every Grand Slam tournament as the top contender. His record speaks volumes for his versatility, as he lives to be the only man named after him at every Major trophy at least three times.
However, he doesn't leave a pleasant impression every time he steps inside an arena.
The Serb's rise came at a time when all tennis fans had decided that Federer and Nadal would be the only superstars going forward. The 36-year-old won his first Major, the Australian Open, in 2008 when Federer's tally was already 12. For the next two years, Djokovic stayed low while Nadal won one trophy after another.
It was only after winning his second Australian Open in 2011 that Djokovic announced himself as the third musketeer, beating crowd favorite Nadal in three consecutive Grand Slam finals in London, New York and Melbourne (2012), respectively.
The Serb had also emerged as a determined challenger to Federer, beating him in the semifinals on numerous occasions. The seven-time Wimbledon champion first defeated London favorite Federer in a final at the 2014 Championships, and did so again the following year. The fans soon developed a dislike and the boos against him began to echo deeper.
Another reason for such strong opposition from the stands against him was the Federer-Nadal friendship. The two rivals formed a cordial relationship, which allowed them to enjoy a large fan base, made up of almost all tennis fans. And the fan base now had a common enemy: Djokovic. No matter where and who the Serb played against, he was teased.
But the player never held back. He fought the crowd just as much as he fought the opponent. He would blow kisses, yell loudly, put a finger to one of his ears and tell those against him to jeer louder after every point he won. He spoke about the same thing at a press conference in 2018.
"There's an unwritten limit where you feel like it's too much. I can tolerate it a bit, but I'm going to show that I'm there too and haters can't do whatever they want," he said. 36 years old she had said to herself.
The enemy, therefore, became a villain for fans.
Novak Djokovic – A strange mix of elegance and power
Novak Djokovic is a rare mix of elegance and power. Serbian is not even as soft as Roger Federer was on the court nor does it depend on brutal force like Rafael Nadal does. The 36-year-old's style of play isn't unique enough to wow a spectator.
His backhand does not have the elegance of Federer. His forehand does not have the power of Nadal. The bystander hardly expects anything extraordinary from the Serb's side of the court during an exchange, but he always stands his ground. He's not afraid of looking ugly as he slips into his work to make a comeback.
Determined to stay until the end, the winner of 23 Major continues to win points, games, sets, matches and grand slams.