Arts
Uproar Festival Launches With Artist Event In Chapel Hill – Chapelboro.com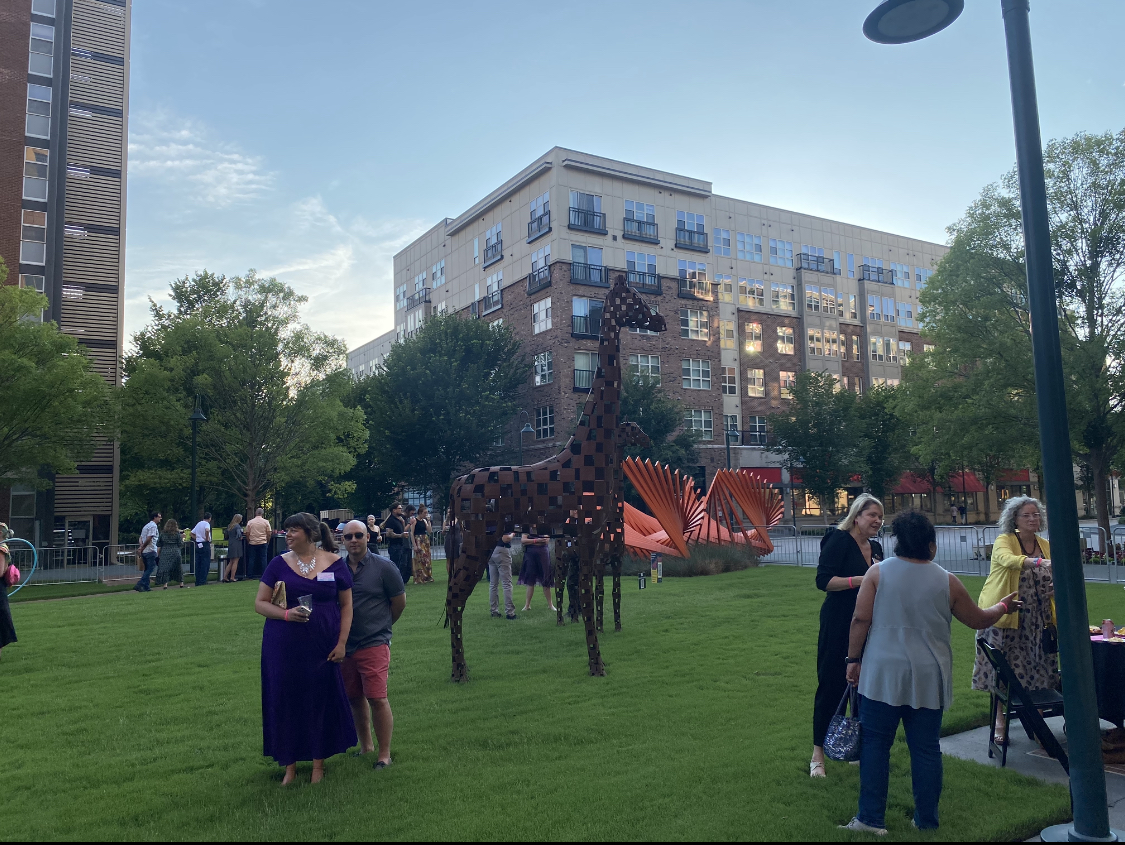 "The first one was set up Sunday right across the street in Carolina Square and I was like, 'Is this real? It's happening! It's happening!'"
That's Katie Murray, director of the Orange County Arts Commission and event organizer behind the Uproar Festival of Modern Art.
Murray and the great team of individuals, supporters and artists who made the festival possible came together Friday night at the CURRENT ArtSpace + Studio on Franklin Street to celebrate their hard work.
As the night cooled, a DJ spun music, bright lights spilled across the walls, and partygoers poured out. The performers who made up the majority of the electric crowd stood out, sporting necklaces with pink insignia.
The event not only marked the start of Alboroto, but also celebrated the festival meeting its funding goal.
Murray said the festival was created to celebrate what artists in the area have to offer while also addressing the economic lull that local Orange County businesses often suffer in the summer months.
"When I first came here seven years ago, one of the things I heard over and over again was that the summers here are very harsh, especially for downtown business owners, so I started thinking about what we could do. do in the summer. that would be, you know, shocking, and then at the same time, I started noticing how Orange County looks dwarfed in the Triangle," Murray said.
David Hinkle was one of the many performers at the kick-off party on Friday. Hinkle is a sculptor and craftsman whose piece was initially made to celebrate the 10th anniversary of UNC's Center for Galapagos Studies. Now his sculpture of a blue-footed booby can be found on the front lawn of Carrboro City Hall, near the Farmer's Market.
He installed his piece earlier in the morning, but still had time to come to the celebration.
"It's really cool any time you do these kinds of installations, the number of people that come and talk to you," he said, "and it's actually kind of hard to get the job done, but it's great to talk to everyone and everyone is great." enthusiastic."
Hinkle said her favorite part of the Uproar Festival is how it directly incorporates art into public spaces.
"The amazing thing about the public art part is seeing the reaction from the community, like when I'm putting things up, how people come up to talk to you," Hinkle said, "and how many of the people will say thank you, and I'm getting excited to tell you this, but they'll thank you for doing it."
Potter Russell Knop was another performer at Friday's event. He and other local potters who make up the Clayworks Pottery Guild gathered around a table and discussed their collective piece in front of the Hillsborough Arts Council.
"All the potters got together and we decided to do a project that would represent all of us individually in one piece," Knop said.
The 60 different pieces of art scattered throughout Orange County don't just include sculptures. Durham muralist and graphic designer Sarah Bordner painted a sign at 150 East King Street in Hillsborough. It shows different messages as it moves from left to right. Bordner said that being a part of this festival is an honor.
"As a muralist," Border said, "I get to do a lot of exterior work, but not as much as I'd like, so here's another chance to say we exist, and I can produce something really cool if you want to take the time. to look at it."
The pieces can not only be found in public spaces, but choosing a winner will be a community effort. QR codes can be found on or next to each art installation and anyone can nominate their favorite piece of art until 9:00 am on Friday evening, August 11.
That means the art installations will only be available for one month. Murray urges everyone to make time to explore before the festival ends.
---
chapelboro.com does not charge subscription fees, and you can directly support our efforts in local journalism here. Want more of what you see in Chapelboro? Let us bring you free local news and community information at subscribing to our biweekly newsletter.
Related