Culture
Returned artifacts presented in exhibition – Hurriyet Daily News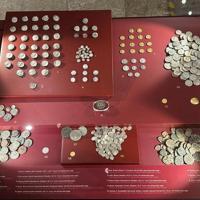 ANKARA
Nearly 900 artifacts that have been returned to Türkiye from various countries are being presented to visitors at an exhibition titled "No Way Out."
class="cf">
Within the scope of the UNESCO International Day Against Trafficking in Cultural Objects, cultural assets of Anatolian origin returned to Türkiye from abroad and the ones recovered and restored in the country can be seen at the Anatolian Civilizations Museum in the capital Ankara for one month.
The artifacts on display include the Heracles statue, found in Heathrow Airport and returned from London; the fourth-century golden crown, originating from the Western Anatolian Civilizations and returned from Scotland; and various gold plates, golden spoons, coins, ornaments and bronze mirrors returned from Croatia and Hungary.
Speaking at the opening ceremony of the exhibition last week, Cultural Heritage and Museums General Director Birol İnceciköz stated that the return of the artworks was provided in cooperation with the Interior Ministry, the General Directorate of Security, the General Command of Gendarmerie, the Justice Ministry, the Foreign Ministry, the Trade and Commerce Ministry and the Culture and Tourism Ministry.
"We brought more than 3,000 cultural assets to our country this year alone. Thanks to the customs units, we prevented the illegal removal of our cultural assets from the country. We continued our activities for the on-site protection of cultural assets with nearly 40 regional conservation committees and experts in more than 200 museums across Türkiye," he said.
class="cf">
İnceciköz noted that Türkiye has fulfilled its responsibilities arising from the 1970 UNESCO convention and that the issue is not just a cultural issue but a national value.
He also announced the publication of the book titled "Artemis'in Yolculuğu" (Artemis' Journey), which tells the work carried out for the return of cultural assets.
İnceciköz stated that the Heracles statue in the exhibition was caught on a person at London's Heathrow Airport and that the statue dates back to the second century A.D.
"Our cultural assets in the Anatolian geography are very important and diverse. Their historical and cultural value is quite high. Our country is carrying out a very planned work. First of all, we started to sign protocols with various countries. Within the scope of these protocols, we ensured the return of artworks quickly. Our country's recent fight against smuggling is an example for both UNESCO and other countries. Our teams, just like detectives, are carrying out serious scientific studies to prove that the smuggled artifacts belong to our country. No person should attempt to smuggle historical artifacts. As a result of these policies, we will definitely catch them and bring them back to our country," he said.