Culture
Meena Kumari: Poet of the night – Frontline – Frontline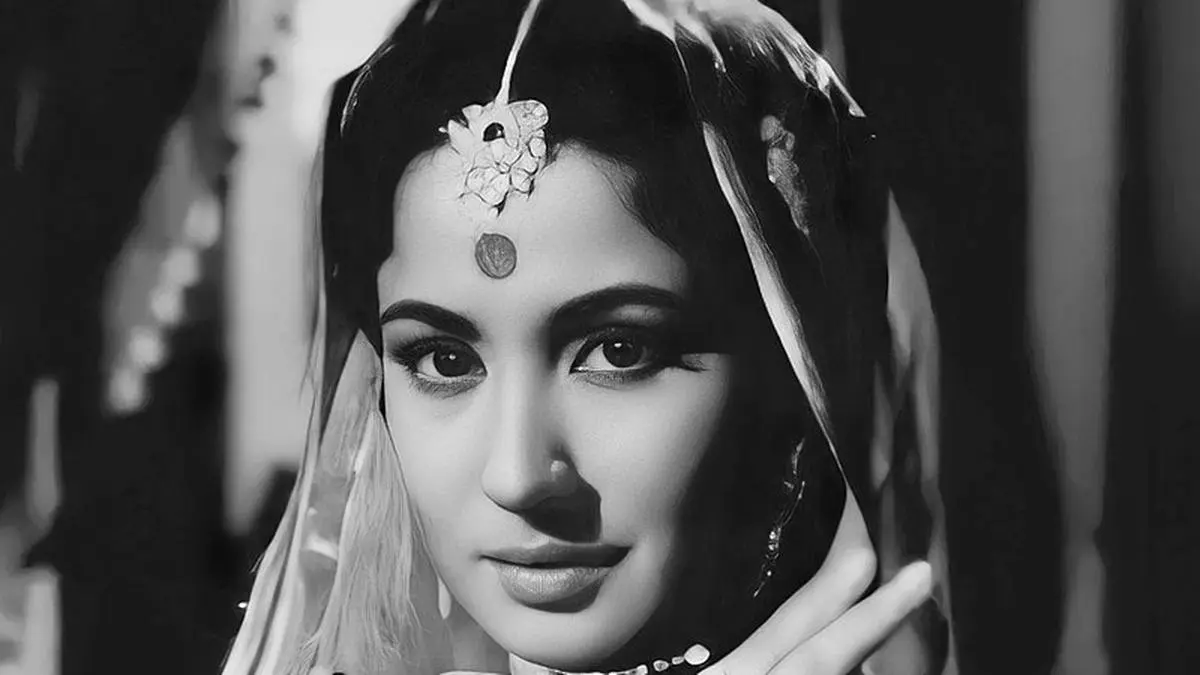 Typecast as a tragedy queen, Meena Kumari found her own voice in her poetry, contrasting her vibrant inner world with the superficiality of stardom.
It is March 25, 1947. In another five months, India will be independent. Mahjabeen Bano, a girl of 13, has just lost her mother to an inoperable lung infection. She lives in Iqbal Bungalow, a two-storey house in Bandra West. Mehboob Studios, which will be set up just a couple blocks away, has not yet been founded.
Mahjabeen was renamed "Baby Meena" at the age of six by Vijay Bhatt of Prakash Studios. Her father, Ali Bux, was not too keen on it but parental objections took a backseat when it came to the views of Director Saab. In a sense, Baby Meena was brought up by the film studios. Ali Bux had been relying on her since she was four to bring home the bread by working as an actor in the Bombay film industry.
In a few years' time, Baby Meena will be known all over India as Meena Kumari. She will play the role of a grief-stricken, morally unambiguous female protagonist in a series of Manichean Bollywood dramas. A prime example is of this is the character of the young bride in Sahib Bibi Aur Ghulam (1962), who takes to the bottle just to make her husband stay at home and not visit brothels. Soon, Mahjabeen's identity will be subsumed in the character she plays— she will be known as the tragedy queen of Indian cinema.
Also Read | 'Mrinal Sen's stark images transformed me': Shoojit Sircar
Any public persona dilutes the nuances of a person's individual identity. In Mahjabeen's case, it overrode her identity as a poet, who wrote verses Urdu under the pseudonym, Naaz. On August 1, 2023, on her 90th birth anniversary, I co-hosted "The Meena Kumari Poetry Crawl" along with Saranya Subramanian—it was a walk retracing her footsteps from one residence to another, while reliving her verses and a few rare anecdotes (which were sourced from Vinod Mehta's 2013 book, Meena Kumari: The Classic Biography). Our journey became an excavation, with her poetry leading us to uncharted neighbourhoods. 
The late scholar Noorul Hasan had translated a collection of Mahjabeen's Urdu poems into English in the book, Meena Kumari: The Poet (Roli Books, 2014). It has a critical introduction by the academic and novelist Daisy Hasan, and her late husband, the culture critic, Philip Bounds. Discussing Mahjabeen's poems, Hasan told me during an interview that "scepticism towards her writing continues to this day".
Indeed, Mahjabeen's work continues to be heavily discounted, chiefly by male critics, as self-absorbed, oversimplified, and lacking in nuance. Revisiting her verses almost a century after her birth reveals a surprising voice, strong in its nonchalance, steadfastly refusing to give in to histrionics, even as outward circumstances turn dire. A recurrent theme is the juxtaposition of an inner life filled with emotional awareness with an outer life moulded to fit the double standards of popular culture. Hasan articulates this well in an essay from his book, where he likens her poems to a "slight, casual, …intermittent adventure or a holiday she allowed herself from her self-consuming stardom." 
Here, I attempt to take readers on a journey similar to the Meena Kumari Poetry Crawl, to unravel the identity of a poet and a woman via anecdotes from the three places she lived in. 
Iqbal Bungalow
This home marks a place of transition and grief in Mahjabeen's life. Her family shifted here in the 1940s, transitioning from staying in a chawl in Dadar to becoming homeowners in Bandra. 
The residence is named after Mahjabeen's mother, Iqbal Begum, whom she lost at 13. Notably, Iqbal Begum's name was originally Prabhavati; she was a Bengali-Christian dancer who renounced her religion and name to marry Ali Bux. According to Mehta, Prabhavati was the granddaughter of Tagore's younger brother; so, Mahjabeen had a less-known familial link with the great poet. 
It is worth taking a pause here to notice the irony: both Mahjabeen and her mother had to undergo a change of name in order to show the relinquishment of one religion and the adoption of another (albeit different ones) to fulfil societal expectations. During her time at Iqbal Bungalow, Mahjabeen went on to star as various Hindu goddesses in mythological dramas such as Laxmi Narayan (1951). These gigs earned her enough money to buy her a second-hand Plymouth. Mahjabeen loved to drive: she would sit behind the wheel whenever the chance arose. 
Mehta's biography gives us an anecdote about the negotiations over her salary for playing the lead role in Anarkali, a film that was eventually shelved. The director was Kamal Amrohi, whom she would go on to marry. But this incident took place long before any romantic alliance had begun between the two. When Mahjabeen came to know of the starting figure (around the unreasonable ballpark of Rs.3,000), she supposedly drove off in indignation from Iqbal Bungalow on her own. This created concerns about losing the lead actress, and so, the figure was settled at Rs.15,000. 
And here we come to two poems. There is an effortless embrace of the unknown and the night in "Badli Hui Ra't" ("The Altered Night"). And there is an unsentimental matter-of-factness in dealing with irrational grief in "Gham Ki Talash" ("The Pursuit of Grief"). Quoted below are the poems, in Hasan's translation. 
"The Altered Night"
There was a sense of eeriness
The illusory light of the cloudy skies
Spectral shadows
Magic mountains
Sundry fragrances—
Everything stood altered
Perhaps because
It was night.
And night transforms
All that is
Be it the snowing, solitary night
Or the breathing, fragrant, moonlit night
Or the sad, forlorn, stormy night.
All nights
When they exert their magic
Lend familiar things such shapes
That they're hard to recognize.
"The Pursuit of Grief"
Grief –
Is it not here?
Behind this corner
Over that bend
In those mirage whirlwinds.
Isn't this grief's double right here
Faking the footfall
Of the original
Moving like a ghost.
How easy the pursuit of grief
Man is the sorriest creature
In all creation
Only man can bring himself
To commit suicide
These chirping birds
Flourishing flowers
(unmindful of their ephemeral life)
Are not so despondent
As to kill themselves
Over tensions in their marriage stemming partly from conditions such as a strict curfew imposed on her by Amrohi, Mahjabeen departed her marital home in Bandra West in 1964. She lived for a few months with her younger sister, Madhu, and her husband, Mehmood, in Mehmood's family huge family residence, "Paradise", in Andheri. 
This was a period of targeted surveillance. Mahjabeen was isolated and no guests were permitted to see her. Any mail or phone calls for her were vetted and examined. 
Also Read | Are Hindi films problematising history?
Mahjabeen wrote as a way to challenge the public gaze, and to reclaim her space and body. This can be seen in "Sheeshein Ka Badan" or "Body of Glass", where she writes, "My anklets turn around to say:/ No thorn will prick me now… Even death will find me/ A hard nut to crack… My entire body has become opaque/ As if made entirely of glass". Her poetic persona takes on the role of the critic in the poem, "Khali Dukan" ("The Empty Shop"), where she employs the phrase "shop of Time" as a metaphorical substitute for the film industry, which commodifies and distributes "wealth", "fame" and "pleasure" to all, distracting from life's unsettling brevity.
"The Empty Shop"
Why has Time spread out its wares before me?
Where are the things
I used to buy?
These spurious toys of pleasure
Paper flowers of fame
These wax dolls of wealth
Locked in glass cases
(That can melt at anyone's touch)
These are not the things I wish to buy
A handsome dream of love
Which can cool my inflamed eyes
A moment of perfect intimacy
Which can soothe my restless soul
I came looking for nothing but these
And the shop of Time
Supplies none of these thing
"A Body Made of Glass"
How light my body has become
As if made entirely of glass.
My eyelashes are decorated with a lace
Made of flowers
And the brightness of the Milky Way
My hair has spun a shawl of dreams
My anklets turn around to say:
No thorn will prick me now
Even life can no longer taunt me.
I will not succumb to the seduction
Of the evening
I refuse to be entertained
By the night.
Even death will find me
A hard nut to crack.
My soul resides in exile
My entire body has become opaque
As if made entirely of glass.
Landmark Building
Mahjabeen did not attend proper school. She took private tuitions, but was mostly self-educated, leaning particularly towards Urdu. She was nicknamed "Reading Mahjabeen" because, as a child, she would spend most of her free time at the studios hunkered over a book in the corner. Growing up, she enjoyed the works of Mir, Faiz, and other Urdu poets. At her final residence, the 11th floor flat in Landmark Building in Bandra West, one could find Emily Brontë and Alistair McLean on the bookshelf, along with a collection of sea-stones. This was Mahjabeen's safe space, her "hideout", as Mehta calls it. 
Mahjabeen's passing from liver cirrhosis on the Good Friday of 1972, at the age of 39, shocked the nation. She had faced near-death experiences before. During the shoot of the song, "Tu Ganga ki maoj mein Jamuna ka dhara" for Baiju Bawra, she was almost thrown into a waterfall: an overhanging rock that stopped her boat in its tracks saved her. This anecdote brings me to her poem, "Badal aur Chat'tan" ("Cloud and Rock"). Here, the rock seems to stand not only for steadfastness but also for the self as a performer, "stuck" in the public eye. The audience, like the "clouds", are impermanent; they come and go. 
Also Read | Trans-formation on the big screen: Queer themes in Indian cinema
During the shooting of the same film, it was discovered that Mahjabeen loved snakes: she befriended a non-poisonous snake who was part of the shoot. Her last wish was that her body should brought to her bed in Landmark, before it was taken for burial. And this brings us to the poem "Aakhri Khwahish" ("Last Wish"), where she listens to "This pervasive symphony of death", welcoming its embrace. 
"Cloud and Rock"
You are clouds
Came with the winds
Lingered for a while
On the sky
Burst
And
Vanished into some remoteness
We are rocks
Stuck in our places
Knowing that
Those who go away
Shall never return.
"Last Wish"
This night, this loneliness
This sound of heart-beats — this eerie silence
This silent rendering of ghazals
By sinking stars.
This solitude sleeping
On the eyelashes of Time
This last tremor
Of the feeling of love
This pervasive symphony of death —
These are inviting you!
Come for a moment
Decorate the dream of love
In my closing eyes.
Vasvi Kejriwal is a poet. She facilitates poetry workshops and curates guided poetry walks under her initiative, "Fresh Mint".