Rugby
HSBC SVNS: A new dawn for the sport of rugby sevens – RugbyPass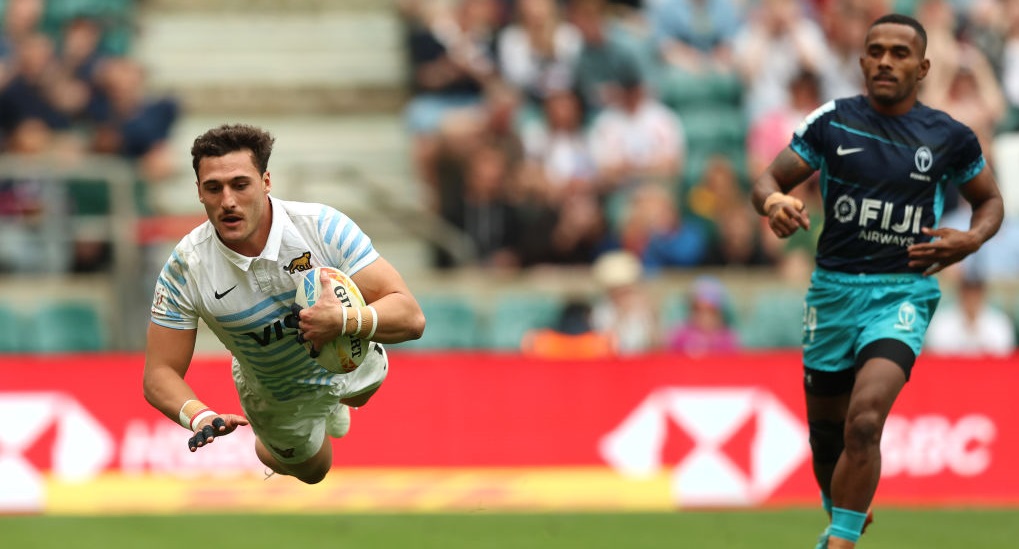 Rugby sevens is about to undergo a transformative change with the launch of HSBC SVNS, a revamped and renowned global celebration of sport. The new series aims to fuel the growth and appeal of rugby by providing immersive experiences and turning events into ultimate festivals.
HSBC SVNS will take place in eight iconic cities, lining up all locations for the first time. The brand identity reflects summer vibes; attracting a younger audience hungry for entertainment. The annual series will be the reference destination for people looking to have a good time, combining sport, entertainment and culture in a dazzling setting.
The festivals will feature the best men's and women's Sevens athletes in the world., offering a global stage for 12 teams at each location. The dates and locations of the event are set, starting in Dubai in December and concluding with the grand finale in Madrid in June 2024.
HBSC SVNS – Festival Dates
Dubai, United Arab Emirates: December 2 and 3, 2023;
Cape Town, South Africa – December 9 and 10, 2023;
Perth, Australia – January 26-28, 2024;
Vancouver, Canada – February 23-25, 2024;
Los Angeles, USA – March 2-3, 2024;
Hong Kong, Hong Kong SAR China – April 5-7, 2024
Singapore, Singapore – May 3-5, 2024;
Madrid, Spain – May 31-June 2, 2024.
HSBC SVNS is not just about the action in the field; embodies a festive atmosphere with sunny days, music, food and well-being. Each destination will showcase its unique local flavor, enhancing the overall excitement and enjoyment of the events. Various competitive and social sports will be available, catering to different interests.
The competition format has been revamped to maximize drama and excitement. Based on accumulated points from the series, the top eight teams will compete in the new 'winner take all' grand final in Madrid, where the men's and women's champions will be crowned.
In addition, Madrid will host a relegation play-off competition involving the teams ranked 9-12, as well as the top four teams from the World Rugby Sevens Challenger Series.
HSBC SVNS is also committed to gender parity, featuring combined men's and women's competitions in all seven rounds and the grand final. World Rugby has increased its investment in participation fees by 70 per cent, demonstrating a commitment to sustainable growth.
World Rugby chief executive Alan Gilpin expressed his enthusiasm for HSBC SVNS and its potential to broaden the reach and appeal of the sport. "We are excited to launch HSBC SVNS, the supercharged new identity for our Olympic format, with iconic destinations and a new concept on and off the pitch, expanding the reach and appeal of the sport beyond its traditional audiences," he said.
"Our ambition is for SVNS to be at the forefront of our growth strategy, attracting a younger, entertainment-hungry audience. Across eight iconic destinations played over seven months, we will bring together a truly immersive festival of rugby, music, food and experiences to create the best youth gathering weekend, the hottest ticket and usher in a new era for the sport. .
"For the first time in rugby sevens history, all locations will be centrally managed, meaning the overall experience is the same and we can optimize business revenue for reinvestment, including playing our part in ensuring that Sevens a viable career path for the talented. Olympic players and athletes.
The HSBC SVNS series aims to appeal to a younger audience by creating an immersive festival that combines rugby, music, food and experiences. Centrally managed locations enable a consistent experience and optimize business revenue for reinvestment.
To mark the launch, the 'Destination: SVNS' campaign celebrates the vibrant brand and positions SVNS as the ultimate summer-style destination, offering immersive entertainment and experiences from sunrise to sunset. The series was developed through extensive consultation with teams, tournament hosts, player representatives, and fans.
HSBC continues to support rugby sevens as a senior partner of SVNS on a four-year deal. The bank's CEO, Noel Quinn, expresses his pride in the opportunities created through his association with World Rugby, including expanding the sport into new markets and supporting the growth of women's rugby.
HSBC ambassador and former USA 7s Captain Abby Gustaitis added: "Having recently come to the end of my career as an HSBC SVNS player, I am delighted that the next generation of Sevens players will be part of a series that is completely equal in terms of schedule and pay.
"HSBC has been a huge supporter of the growth of the women's game and today's announcement is a big step in making rugby a fully equal game for all."
HSBC boss Quinn said: "Through many years of working closely with World Rugby to showcase and support the sport around the world, HSBC has become synonymous with World Rugby Sevens.
"I am particularly proud of the new opportunities we have helped open up by taking the sport to new markets, supporting the growth of the women's game and giving tens of thousands of young people the chance to try rugby for the first time.
"I am delighted that our hugely successful partnership with World Rugby will continue for years to come, and that HSBC can help the sport reach even greater heights."