World News
FIU Faculty Takes On the World as 2023-2024 Fulbright Scholars… – FIU News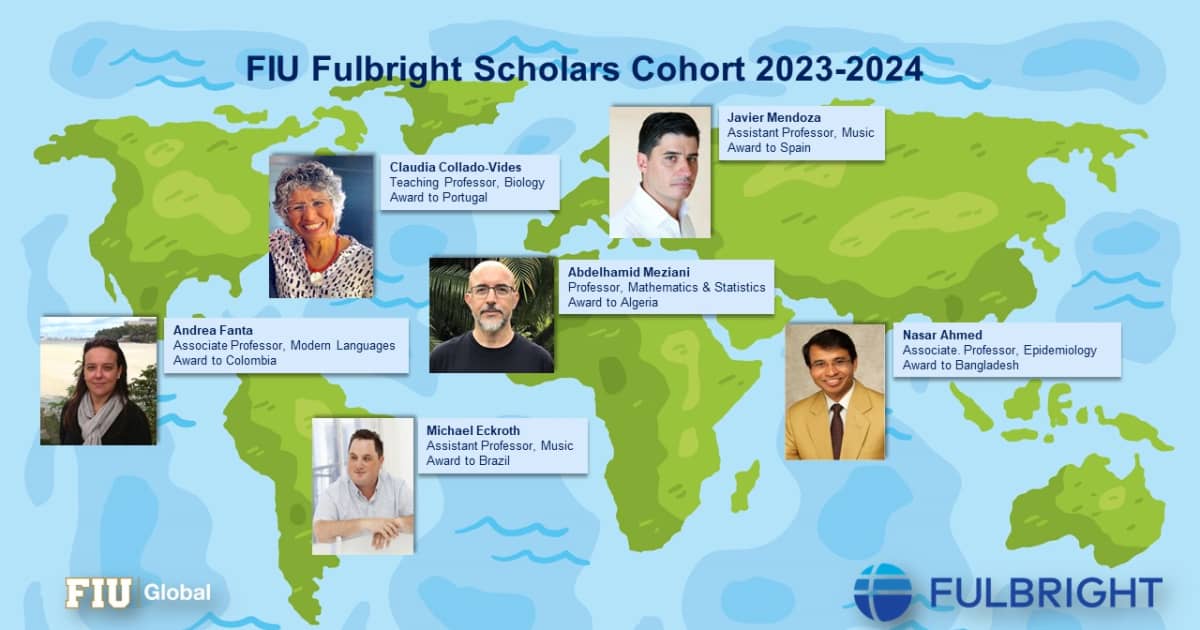 Nasar U.Ahmed, associate professor and founding chair of the departments of epidemiology and biostatistics at the Robert Stempel College of Public Health and Social Work, will join Daffodil International University, Dhaka, Bangladesh, in the fall. He will focus on improving public health curricula, assisting in the development of doctoral programs, and creating more collaborative health research opportunities. His work will spread to various universities in Bangladesh including Bangladesh University of Health Sciences, Dhaka University and Jahangirnagar University. In addition, his proposed research activities will focus on preparing the workforce for global health and the United Nations sustainable development goals.
Ligia Collado-Vides, teacher-researcher and marine botanist in the Department of Biology, will join the University of Algarve ALGAE-Ecology of Marine Plants and Center for Marine Sciences in Portugal in the autumn. Their project will focus on investigation of the species characteristics of macroalgal blooms, including abundances in the field, experimental assessments of physiological responses to nutrients, and detection of CO2 and methane fluxes in plant debris. beach. The research will compare the massive algal blooms that occur across the Atlantic and assess potential similarities that occur regionally across the Atlantic.
michael eckroth, assistant professor at the Wertheim School of Music, will travel to Brazil during the late summer and early fall semesters of 2023. Together with faculty and graduate level music students from the Federal University of Minas Gerais in Belo Horizonte and together with a community of local musicians, it will develop a collaborative group of works in modern jazz and Brazilian music. In addition to curating a number of local performances, he will compose music for large and small ensembles culminating in recordings and performances of the work. He will also coordinate a series of seminars, in close collaboration with jazz players graduated from this university.
Andrea ghost, associate professor in the Department of Modern Languages, He will spend the fall semester in Bogotá, Colombia, at the Pontificia Universidad Javeriana, where he will conduct research on the origins of Colombian migration to the United States and the Colombian diaspora. Her research examines the impact of digital memory, archives, and identity preservation on national identity and aims to strengthen connections between Colombians at home and in the diaspora.
javier mendoza, associate professor and director of orchestral studies at the Wertheim School of Music, received a Fulbright research grant and will work at the Centro Superior de la Investigación y Promoción de la Música at the Autonomous University of Madrid, Spain, where he has been appointed professor honorary. His research will expand on his earlier work focused on 18th century Spanish music in both Europe and Latin America, along with the role Spain played in the spread of gallant and Italianate music during the last half of the 18th century. The project will also include performances and collaborations with the Camerata Antonio Soler and the Luigi Boccherini Association.
Abdel Hamid "Hamid" Meziani, Professor of the Department of Mathematics and Statistics, He will join the mathematics department at the Houari Boumediene University of Science and Technology in Algiers, Algeria for the fall and part of the spring semesters. She will teach a graduate course in partial differential equations and introduce graduate students to their research on elliptic equations with degeneracies. He hopes his visit will serve as a springboard for a long-term collaboration between young Algerian and American mathematicians.
A seventh faculty member received a Fulbright Scholar award but later had to turn it down.