Travel
CEO praised for refusing to give up plane seat to let mother sit next to children – The Independent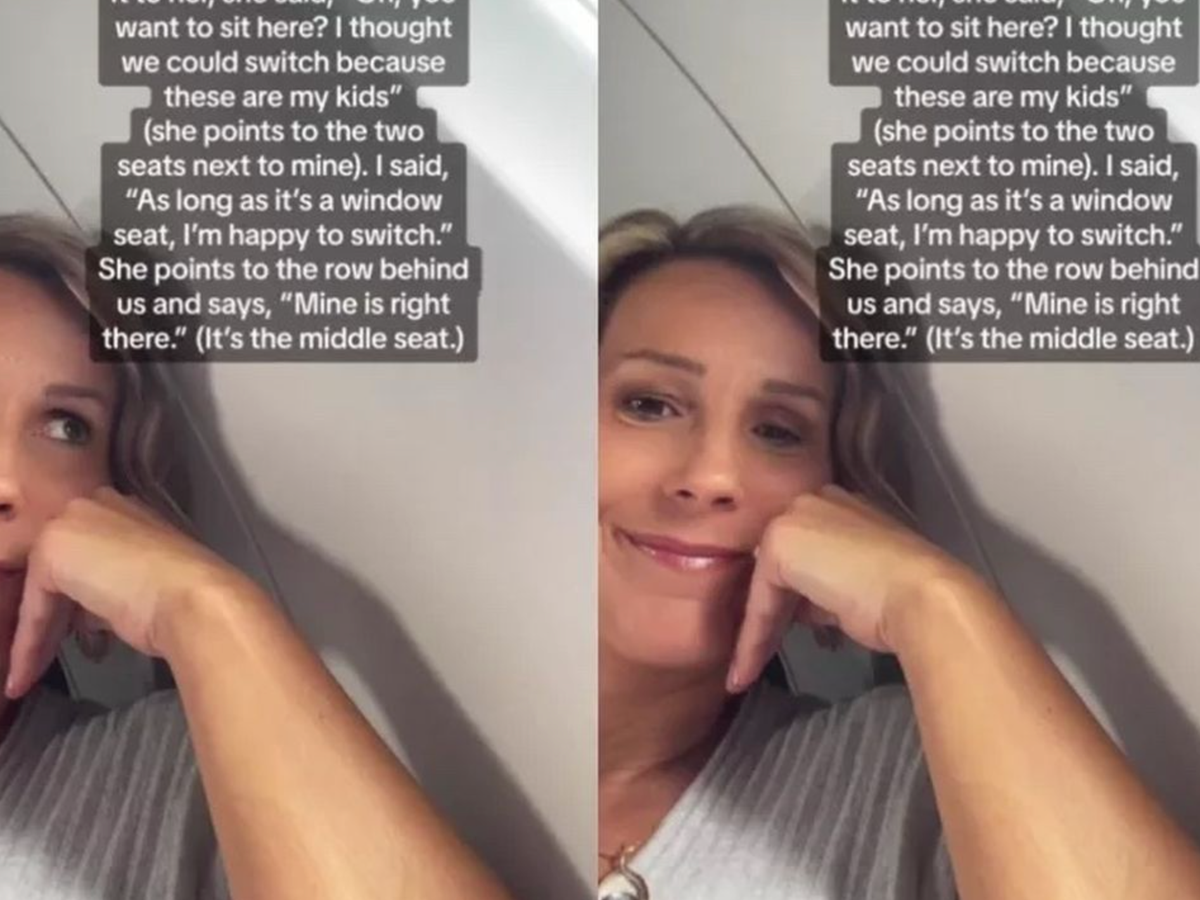 A woman who refused to change seats with a mother so she could sit next to her children in a plane she was praised online for sticking to her position.
Tammy Nelson, the CEO of global jewelry brand CONQUERing, shared the incident on Tik Tok and said he was flying on a delta airlines flight from Cincinnati, Ohio to San Jose, California, when another woman asked her to change seats so she could sit next to her two children.
Mrs. Nelson thought the other woman was already sitting in her window seat.
"I double checked my boarding pass thinking I might have gotten in the wrong lane," Nelson told Newsweek. "When I confirmed that she was looking at the correct seat, I thought that she must have mistakenly sat in the wrong seat. So I said, 'I'm sorry, but it looks like you're in my seat,' thinking she would notice and move."
But the woman did not. "Oh, do you want to sit here?" she supposedly she said she. "I was quite surprised by the question, but I responded simply by saying, 'Yes, that's the seat I selected,'" Ms Nelson said.
The woman reportedly told him she was with her two children who were sitting in the seats next to her window seat. "Oh well, I thought we could change since these are my children," she told Mrs. Nelson.
At this point, Ms. Nelson told her TikTik followers the real reason she refused to switch with the mother, who offered Ms. Nelson a middle seat.
"I get dizzy during takeoff and landing if I can't see out the window. I don't sleep much either. I often try to get some sleep on planes, which is easier with a window seat," Ms Nelson said.
"On that particular day, I only got 90 minutes of sleep the night before," he said. "And I was heading into a high-pressure work week where I would be presenting to 500 people and I really needed to be at my best, so getting some sleep on that flight was really important."
Ms. Nelson's TikTok video has been viewed more than 1.6 million times so far.
She said the mother was reportedly "super upset" before returning to her own middle seat.
Ms. Nelson received support from TikTok users for her booth.
"People should reserve seats together if they want to sit together," wrote one user.
"The number of families that aren't paying to select their seats together is mind blowing! You were 100 percent right not to give up your seat," read another comment.
"No. If it's not an upgrade, it's a sacrifice," said another.
"People choose the hallway or the window for specific reasons (for example, to sleep or to be near the bathroom). There is no obligation to change," added another user.
Ms Nelson said "people are sick of people feeling entitled" when it comes to things like this.
"Clearly, the woman was just waiting for me to make a change to meet her needs, without considering what she had done (or failed to do) that put her in that situation," he said.
"She was just hoping that I would flex my plans to suit her needs. There seems to be a growing trend of this right in society and I think people are fed up with it."