Soccer
Barcelona Rules Spain With A Golden, Five-Fingered Fist – Defector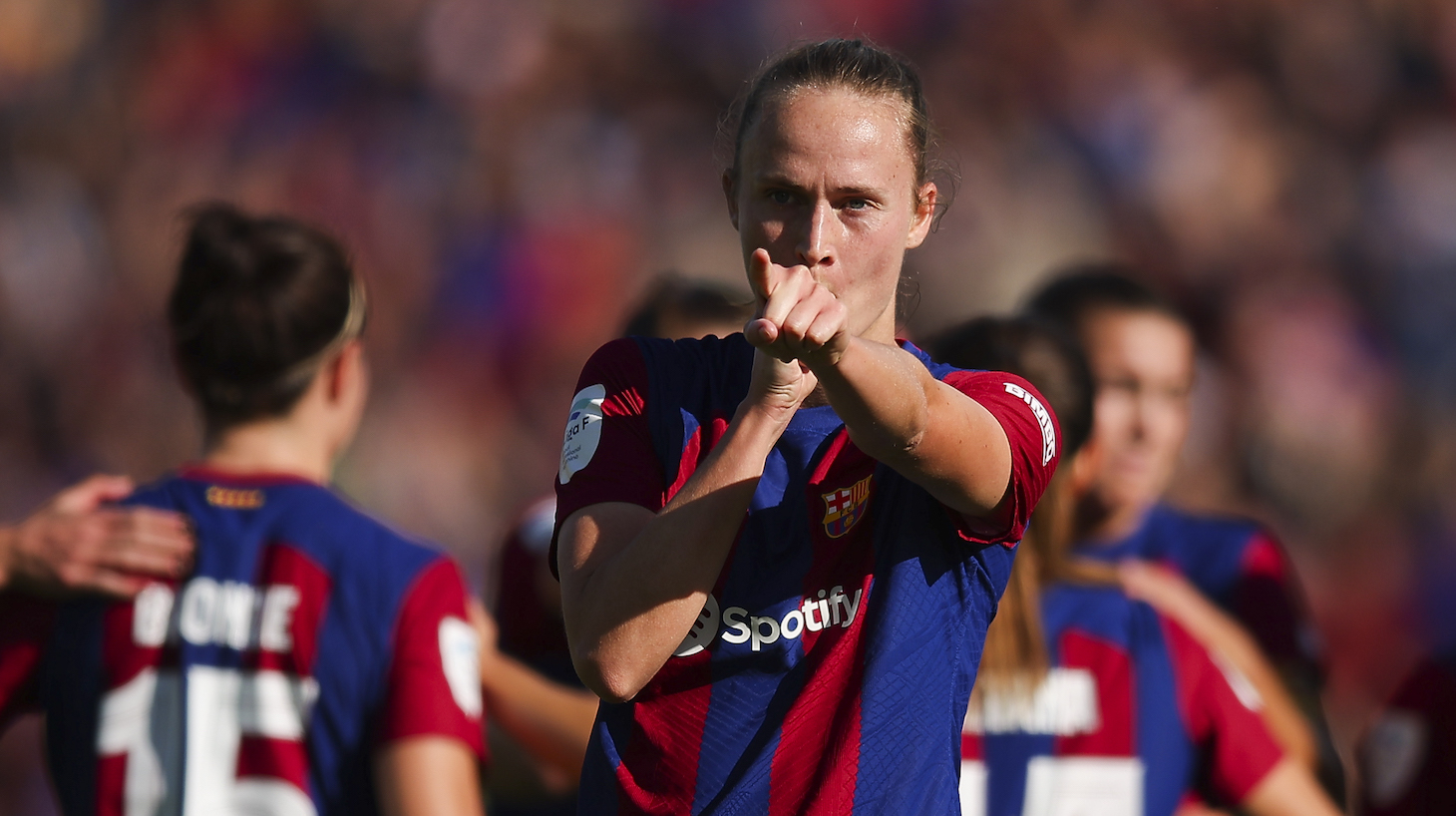 It's funny to think about now, on the other side of what ended up an instantly iconic 5-0 thrashing, but for the first 40 minutes of Sunday's Liga F Clásico, it felt like Barcelona had missed an opportunity.
As expected, the Blaugrana hosts torched their would-be rivals of Real Madrid pretty much from the opening whistle. But Barça's shooting sights weren't calibrated to their typical exactitude, and that, plus some heroic saves from Blanco keeper Misa Rodríguez, kept the home team from opening up what by all rights should've been a backbreaking lead midway through the first half. And really, that says everything about how impossibly good this Barcelona team is. In the first half, Barça was overwhelming but not very sharp; nevertheless, they took a three-goal lead into halftime that easily could've been twice as much. After the break, Barça played a far more relaxed game, no doubt in compensation for the injuries that have thinned the squad's depth and the exhausting density of the team's match schedule; nevertheless, they sent two more goals past the wholly overmatched Blancos to give the Catalan club another manita to remember.
What else is there even to say about this Barcelona group, which is well on its way to cementing itself as the greatest women's soccer team of all time, the natural heirs to its male counterparts of the Pep Guardiola era? The team is perfection incarnate. Sunday's match was yet another example. Barça mastered every register of the game: when defending their own penalty box or when pressing high; when attacking directly, like a sledgehammer, or when doing so patiently and precisely, like a switchblade; when setting the tempo or when disrupting the rhythms Madrid tried to impose; when the play was chaotic and when it was ordered. At no point did Barcelona seem distressed by what its opponent was trying to do, and that serenity and match-spanning dominance is what marks this Barça's brand of excellence. Resist all you want, but eventually this team will prevail.
Real Madrid's best spell of play came at the beginning of the match. For about 15 minutes there, the Blancos managed to more or less hold their own against their heavily favored hosts. The Madrid defense admirably withstood Barça's early forays forward, and the attack, especially down the left through Olga and Athenea del Castillo, was able to carve paths deep into Barça territory with some regularity.
Right when Madrid probably felt most optimistic about its chances of maybe avoiding defeat for the first time in women's Clásico history, Barcelona struck. Naturally, the blow came from the feet of Aitana Bonmatí. Madrid left the reigning Ballon d'Or winner too much space at the top of the penalty box. Upon receiving a cutback from Caroline Graham Hansen, Bonmatí, with a sharp swipe of her "weaker" left foot, gave Barça the opening goal.
With the goal came utter control for Barcelona. From there on out there was no question of what the final result would be, the only uncertainty being just how dramatic the scoreline would wind up. For a while it looked like Madrid might luck into a loss less humiliating than it could've been. Barça was in full flow for the rest of the half, drowning the Blancos under a deluge of gorgeous through balls and dizzying movements and shots upon shots upon shots. That Barcelona wasn't up by five goals at halftime was a minor miracle. Madrid couldn't cope with Mariona Caldentey's wide range of movements from her false 9 role. That offered Barça's midfield constant overloads which made finding the open player a cinch, and gave Salma Paralluelo plenty of opportunities to unleash her Olympian speed straight through the heart of Madrid's confused back line.
But it was Graham Hansen who really gave Real nightmares during the first half. The criminally under-appreciated winger—it's a real shame that this top-five player doesn't get the acknowledgement she's due only because she happens to share a locker room with both members of the top two—was probably a collective three feet (a couple narrowly miscontrolled touches from Paralluelo, a few poorly struck shots from herself and her teammates) away from the kind of performance that would've consecrated her greatness on a big stage. Just imagine how we'd be talking about her had this filthy play ended in a goal instead of a shot that rang off the woodwork:
Similar to the first goal, Barcelona's second came right when Real must've felt a surge of hope. As halftime neared, and the prospect of the Blancos taking an unbelievably fortuitous 1-0 deficit into the break grew, Barcelona missed yet another scoring chance when a mighty shot from Paralluelo hit the crossbar. This time, though, Graham Hansen was on the spot to collect the rebound and pound the ball into the net, doubling her team's lead in the 43rd minute. A couple minutes later, it was Caldentey's turn. The Spaniard capped a corner kick with a looping shot that put Barça up 3-0. As sizable an advantage as it was, it somehow still flattered Real's performance.
Barça very much pumped the breaks in the second half. As mentioned before, Barça is stretched a little thin at the moment due to some injury absences. (For instance, both Alexia Putellas and Irene Paredes were missing, though both should be available again soon.) And especially during a hectic week that featured a Champions League match against Benfica last Tuesday, the Clásico on Sunday, and a trip to Germany to face Frankfurt next Wednesday, it made sense why the Blaugrana might've wanted to preserve their legs in a match that was already won.
Not that that made much of a difference. Even at half speed Barça breezed past Real, the latter of which didn't take a single shot in the second half. Like in the first 45, Barcelona in the second half danced on the pitch, created chances, flubbed them, and chipped in two late goals that helped the margin of victory bear a closer resemblance the sheer superiority of the home team's play. The crowd size didn't match the record numbers the women's team had set in years prior—this game, like all the men's team's games this season, was played in Barcelona's Olympic Stadium, since the Camp Nou is closed for reconstruction—but that didn't at all hinder the joyous and festive atmosphere. As the chant goes, being Barça really is the best there is right now, and you could feel the energy of it emanating from the delighted crowd.
---
The 5-0 scoreline—known as a "manita," Spanish for "little hand," each goal representing a finger—has special significance for Barcelona in Clásicos. The history of the manita itself, and the wide-palmed, five-finger celebration it inspires, goes back to the Catalans' 5-0 win over Real Madrid in 1994. It was the time of the Dream Team, when Johan Cruyff had returned to the club whose history he'd changed as a player in the '70s to change things all over again, this time as a manager. Cruyff the manager instilled in Barcelona a commitment to youth development, a devotion to the unique style of play he'd helped innovate as both a player and a coach (a sort of evolution of the Dutch Total Football, which is often today called "juego de posición," or "positional play"), and a new-found confidence that emboldened the club to believe it could challenge and even best Real Madrid, the world's standard bearer for success. Cruyff's Barcelona was a sensation, and it forged the identity that the club to this day defines itself against. When assistant coach Tonny Bruins Slot raised his open hand into the sky that night in January of 1994, after Iván Iglesias scored the fifth an final goal of Barça's routing of Madrid, he created an unforgettable image that in a real way symbolizes what being Barcelona means.
That manita has had powerful echos in Barcelona's subsequent history. Gerard Piqué famously copied Bruins Slot's celebration at the conclusion of his Barça's 5-0 Clásico win in 2010, which remains one of if not the most memorable result of the golden Guardiola years. Piqué had opportunity to repeat the gesture eight years later, after a famous (but slightly imperfect) 5-1 win. On the women's side, Barça Femení marked its first Clásico manita in 2022. Sunday's blowout gave them a second manita and another resonant symbol of this team's quintessentially Barcelonan greatness.
From the style of play, the prevalence of home-grown talents (Alexia and Bonmatí, winners of the last three Ballons d'Or, both came through the Barça youth academy, as did Clàudia Pina, scorer of Barça's fourth goal on Sunday; and though Vicky López isn't a canterana herself, she became the youngest goalscorer in Clásico history when she scored Sunday's manita-sealing fifth goal), to the continent-conquering greatness, Barcelona Femení is everything Barcelona is supposed to be. If you were to trace Barcelona's lineage for someone unfamiliar with the club's legacy, you would necessarily include Cruyff the player, Cruyff the manager, the Dutch school, La Masia, the Dream Team, positional play, Guardiola the player, Guardiola the manager, the Xavi-Iniesta-Busquets midfield, and Lionel Messi. And, in light of the magnitude and character of the team's recent triumphs, you'd also have to include Alexia, Bonmatí, and the present era of Barça Femení, which has already etched itself a permanent and prominent spot in the club's history.
Barcelona's history is quite extensive, though, so spelling all that out for someone might take a long time. Luckily, there's simpler version that, while condensed, does represent all of it pretty well: an open hand, five splayed fingers, and a smile.